Remember the Duncan Roofs differences: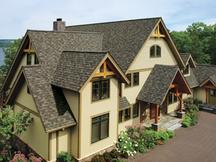 We have the best employees What truly makes us are the players on our team. We do not subcontract our work, nor do we pay on a piecework basis. The people that install our roofs are our own hourly employees. They are skilled craftsmen and most have been with us for many years. Virtually all of our journeymen are factory trained, tested, and certified To insure us of having the very best craftsmen, we make certain that we are one of, if not the highest paying roofing contractor in the area. We are drug-free (and we routinely test). We are alcohol free during the workday (random Breathalyzer tests are given daily).
We follow the best practices of the trade We hand nail our shingles, we dont use nail guns. We weave the shingles in our valleys, and install them over a 24 wide aluminum valley liner. When we install aluminum ridgevents, they are fastened in place with hex-headed screws and neoprene washers. When installing tile roofs, we still use the old fashioned method of an underlayment consisting of a 30# felt and a 90# membrane set in hot asphalt. We set the tiles in urethane foam rather than in mortar, and we neatly saw cut any tiles that are to be laid in less than full pieces.
We use only the best materials Instead of using normal felt under our shingles (which is referred to as tarpaper), we install an adhesive backed modified asphalt membrane over the entire area. This creates a secondary water barrier in case shingles were to be blown off in a storm. Our competitors will either use felt or they will tape the seams of the wood decking. We install our shingles with hot dipped galvanized nails. All our flashing materials are either lead or aluminum; no galvanized metal is used.
Our approach We start early, work hard and efficiently, and staff each job with the proper number of highly skilled craftsmen to complete most any residential roof in one day. We carefully protect the home and grounds and strive to contain all tear-off debris on the roof and take it directly to our truck in the driveway. We maintain a clean tidy work site, and when our work is completed, we leave the ground at least as clean as we found it.
Our Guarantee Perhaps our guarantee is as strong as it is because our product is as good as it is, or perhaps our product is as good as it is because of our guarantee. But, - for whatever the reason, We guarantee our workmanship for the life of the roof. We are a certified Master Elite contractor; as such, we are in the top 2% of roofing contractors in the entire country and are able to provide an extended manufactures warranty to our clients.
Our payment We neither require nor expect any payment prior to the completion of our work.

Service You can Trust
Fully insured and carry 2 million dollars in Liability coverage for your protection
Many major clients who have trusted us with their roofing projects.


(Referrals on request)
Excellent Value
We're factory-certified by GAF Materials Corporation, North America's Largest Roofing Manufacturer
Our foremen and installers are factory-trained in the best roofing techniques


Superior Protection For Your Home
The Weather Stopper Integrated Roofing System

TM

... Your Best & Safest Choice!
The Smart Choice

TM

System Plus Ltd. Warranty gives you extended protection for your entire The Weather Stopper Integrated Roofing System

TM
Avoid Hassles
Personalized service from our experienced staff
Easy payment plan options
Your satisfaction is guaranteed - just ask any of hundreds of satisfied customers
TESTIMONIALS
"I just wanted to say thank you for doing such an outstanding job on our roof and your expediting the job to ensure completion before the rains started. We are very pleased and will recommend you highly to everyone. Thank you." - E. Mullens | St. Petersburg, FL
"This is not my first dealing with your company, but perhaps it should be my second letter. Five years ago- Duncan Roofing did a flat roof at this location. I was very pleased, so who did I call when I needed a new roof- Duncan Roofing Co. Bob, I want to thank you and your office personnel. On time- No mess- And a job well done." - Sam Hardy | St. Petersburg, FL
"Thank you very much for your prompt attention to my roof problem. You are a great professional and I appreciate your thoroughness and promptness. Good will is a very important part of success and you certainly have it! Thanks again, all the best." - S. Pepper | St. Pete Beach, FL
REQUEST A QUOTE
Thank you for contacting Duncan Roofs, a representative will contact you shortly.